Company |
Van Lanschot Kempen
Sectors: Banking, Asset & Risk Management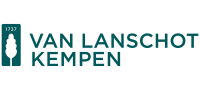 Specialised in the future since 1737
Van Lanschot Kempen, a union of two specialised financial boutiques, is the oldest independent financial institution in the Netherlands.
For a combined four centuries, we have dedicated our financial craftsmanship to helping our clients achieve their goals. During that time, our Dutch trading spirit has led us and our clients through a stream of changes. And through all these changes, our clients' ambitions have also changed and developed – for both the short and the long term.
We always see our way through changing times because we embrace them as an unpredictable yet powerful constant in our work and in our lives.
Responding to changes is deep within our DNA. That's how we can continue to make a significant contribution to our clients' personal, business and social goals.
And, by doing so, to the society in which we live together. We do this with responsibility and integrity, with an eye for our clients and other stakeholders. In this way we are shaped by the era that we, in turn, have helped to shape.
In short: two strong operating companies affiliated as one group with powerful historical value, heading confidently into the future.
About Kempen
Kempen is a Dutch merchant bank specialized in financial services for institutional investors, corporate and private clients. We offer services in the field of property management, investment funds, securities and corporate finance; a unique combination in the Dutch Market.
Focus
We focus on segments in which in-depth research and advice can add real value, such as small and medium-sized listed businesses, life sciences and real estate companies. Our size ensures that we run faster, think better, think smarter. It is not so much what we do that makes us unique, but how we do it.
Makes things happen
Kempen is a breeding ground for talent and an example of service-oriented entrepreneurship. At Kempen, you will find an open culture where talented employees are recognized and each individual is given the opportunity to reach his or her potential. We provide international challenges for financial professionals with courage and ambition, a commons sense view of things and the ability to stand their ground at boardroom level. Candidates who fit this description can expect to be given every opportunity within our company, from day one. Kempen makes things happen.
Possibilities
Is this the challenge you are looking for? Throughout the year we have several internships available, varying from 3 to 6 months. Besides, we offer junior positions (at each department) for ambitious and entrepreneurial students. For further details, please visit www.kempen.nl/carriere and LIKE us on Facebook.
Questions? Please feel free to contact us! talent@vanlanschotkempen.com
E: talent@vanlanschotkempen.com
http://www.kempen.nl/werkenbijkempen/