Sectors: Consultancy, Asset & Risk Management, Data Science & Business Analytics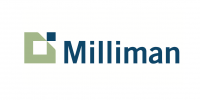 Information about Milliman:
Milliman is one of the world's largest independent actuarial and consulting firms. Founded in 1947, Milliman is an independent firm with more than 3,000 consultants and offices in major cities around the globe. We are owned and managed by our principals—senior consultants whose selection is based on their technical, professional and business achievements.
Our offices in Amsterdam, Brussels and Luxembourg form one practice and consist of around 50 consultants, all with their own specializations. Apart from the traditional actuarial field, we also support our clients on financial risk management and data analytics projects. Finally, we assist on M&A processes in the insurance sector, often internationally. Our client database consists of insurance companies, corporate clients, banks and healthcare providers. Furthermore, we offer our services to other profit and non-profit organizations such as investment funds, housing corporations and governmental institutions.
Our culture:
The culture within Milliman can be described as knowledge and result driven. We are continuously looking for new challenges in the various quantitative fields. One day you will be assisting an insurer with developing a new pricing model, the next day you might advise government institutions on the financing of the Dutch healthcare system or assist on a M&A project. Also our reward structure is result driven and depends on your individual contribution to the success of the firm. Finally, employees enjoy a large amount of professional freedom.
In short, working for Milliman means the following:
A flexible working environment
Talented and motivated colleagues who will always help you
Responsibility from day one
The possibility to develop yourself through post-masters or research projects
Who are we looking for?
We are looking for third year BSc and MSc students with an actuarial, econometric, mathematical finance, or other quantitative background.
Information about our Workshop:
Insurer Milli has been selling life insurances for centuries. However, the company has been featured in the news quite frequently in 2018. According to the media the company is in bad financial shape. Furthermore, some of the board members have resigned and De Nederlandsche Bank is actively interfering with day-to-day business. The current management and shareholders of the insurance company would like to try to sell the company. Insurer Man has growth ambitions and is considering a possible take-over.
The advisers of Student Consulting are asked to determine the economic value of Milli. In addition to a thorough valuation of the Milli portfolio, they are also requested to assist in the negotiations about the final price.
The workshop will be given in Dutch.
Dinner:
During our dinner, you have the perfect opportunity to get to know the company better and speak to our consultants in a more informal way.
Contact information:
T: 06 83949806
E: rosa-lin.meijer@milliman.com