Company |
FrieslandCampina
Sectors: Accountancy, FMCG, Asset & Risk Management, Data Science & Business Analytics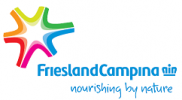 Information about FrieslandCampina
At FrieslandCampina we share the passion to get more out of milk together with 24,000 employees. Our shareholders, 19,000 farmers in the Netherlands, Belgium and Germany, supply more than 10 billion kilograms of milk per year to FrieslandCampina. The products of FrieslandCampina are part of more than 30 iconic brands in more than 100 countries worldwide. Every day we reach millions of people. With sales of 12.1 billion euros, we belong to one of the largest dairy companies in the world.
FrieslandCampina is a purpose driven company focused on winning in the global market for dairy based products. At FrieslandCampina, we want to be profitable, so we can make a positive, lasting impact. Our long-term vision is focused on generating profits in order to create extra value for our member dairy farmers. FrieslandCampina produces and sells consumer products such as dairy-based beverages, infant nutrition, cheese and desserts in countries around the world. In addition, products are supplied to professional customers. FrieslandCampina does not only have iconic B2C brands, a big part of our business is in the B2B market, where we sell ingredients and semi-finished products to manufacturers of nutrition, the food industry and the pharmaceutical sector globally.
Information about our Corporate Traineeship
FrieslandCampina's Corporate Traineeship is a two-year traineeship, starting every March and September. As management trainee you are ambitious, think and act beyond boundaries and strive to develop yourself within your discipline or even broader. With two challenging assignments, both one year, you can make a difference in your job and really contribute to the company and a better world. Our 'fast track' program for future leaders stimulates personal and professional development with lots of potential to grow in short time, for example with our training & development program and personal training budget. You're in charge of your future career, we facilitate where we can. We have a trainee program for the following different disciplines:
The application for our Inhouse Days which will take place on September 12th and 14th is open now!
The application for our Corporate Traineeship starting in March 2019 will open September 17th.
For the Traineeship we are looking for students who have:
Master degree academic level of thinking and working
Less than two years of work experience
Entrepreneurial skills, international experience and/or other extracurricular activities like an internship, your own business or a board year
Fluent in English
Potential & capacity to grow in a fast track
Lunch:
The lunch with FrieslandCampina which will take place at October 2nd 2018 will give you the opportunity to get to know our company and speak with our recruiters and current trainees, who can tell you everything about our Corporate Traineeship. For the Finance track of the Traineeship we're looking for Msc. students in Finance, Accountancy & Control and Business Economics.
Questions?
For questions about our Corporate Traineeship and Entry Level Positions send an email to campusrecruitment@frieslandcampina.com
If you are interested in an Intern position send an email to interns@frieslandcampina.com